Maximize your Profit: 3.75% Seller Solution!
Save on Real Estate Commission Fees
Without Sacrificing Service
Why should you overpay 5% or 6% in commissions? We've represented hundreds of Lane County Oregon Homeowners and have successfully SOLD their home with our exclusive 3.75% total commission fee. At Heart & Home Real Estate, we utlize the latest technology to fully expose our seller's homes online, on social media sites, and offline. We simply find the traditional 6% listing model a bit outdated & expensive with the effective, cost saving, tools we have at our exposure. It allows more profits for our clients, as we successfully represent you from start to SOLD!
Experienced Listing Realtors in Eugene Oregon
If you are considering selling your home, we would love the opportunity to meet you and introduce our team of skilled & experienced Listing Real Estate Agents here in Eugene & Lane County, Oregon. With over 300+ 'Five-Star' reviews from past clients, we have a proven record of success and a the focus of a servant's heart. If you would like to schedule an appointment to learn more about our services, the local real estate trends in your neighborhood, and allow us to better understand your real estate needs & goals, please do so with the form below.
We'll Sell Your Home for More & You'll Save on Fees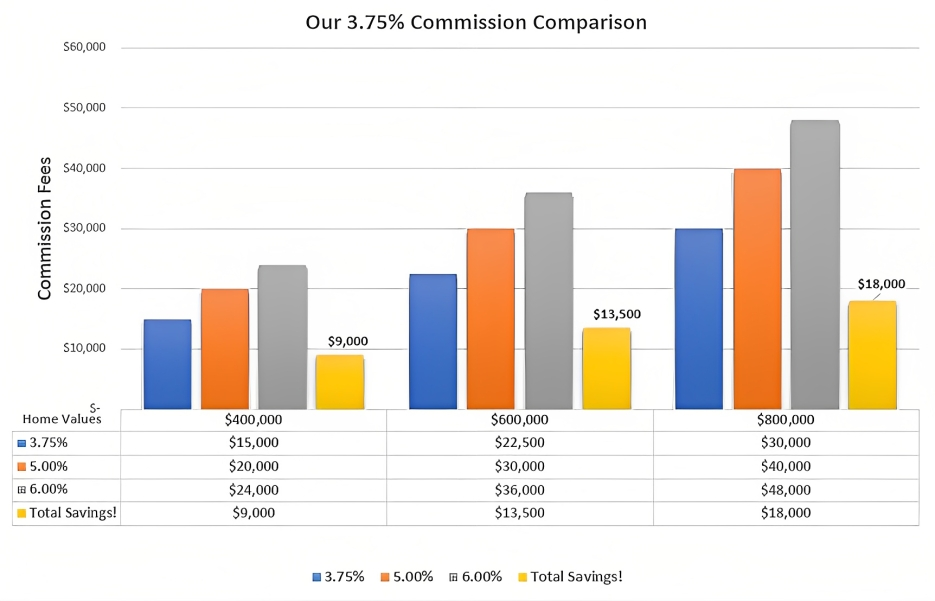 $400,000 home sale saves you $9,000 vs. traditional commission fees!
$600,000 home sale saves you $13,500!
$800,000 home sale saves you $18,000!
Avoid High Real Estate Commission Fees &
Allow us to Fully Represent You!
---
NO 'GIMMICKS', NO 'GOTCHAS', NO HIDDEN OR EXTRA FEES.
We provide extensive real estate services and take complete care of our sellers from well before your home is listed, till keys are handed over to the new buyers.
---
We are the solution for home owners who are:
Considering For Sale by Owner & sellers looking to sell without a Realtor
Flat Fee Real Estate Options
Homeowners how want to keep more of their home equity and profits
Our 3.75% Seller Solution does not mean you receive discounted service, it simply means we charge less and allow you to keep more of your equity and profits when we sell your home! Bringing over 25+ years of combined Eugene Real Estate experience , along with the most innovative marketing- we look forward to getting your home SOLD!
When Sellers Hire Us:
We work interwoven & together at Heart & Home Real Estate. When you hire us, you are getting our team dedicated to successfully getting your home sold, and favorable terms that match your real estate needs & goals.
We work with professional stagers & staging consultations to prepare your home for sale.
We use professional photographers that produce photos, video, and 3D visual floorplans that capture your home with crisp, clean pictures, home tours, and professional aerial drone shots.
We innovatively showcase your home utilizing the latest & best real estate technology for websites & social media marketing including our 3,000+ Facebook followers, paid online ads, and extensive leads database with buyers currently looking for their next Lane County Home!
We represent & negotiate your best interest ALWAYS with: offers, repairs, close & possession times, etc.
We are heavily data driven and share this information in a very easy-to-understand & informative way to our sellers, keeping them updated with with a solid pulse on the latest local market details
We would love to make your home sale our next success story! Contact us so we can share our 3.75% Seller Solution with you!
Let's Schedule an Onsight Appointment: